How to see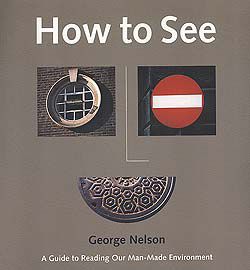 There are some books you come accross that radically change the way you look at life .
"How to see, a guide to reading our manmade environment" from George Nelson is one of them.
In his book, otherwise intitled: "Visual Adventures in a World God Never Made", the author takes the bet of teaching to the readed what to look for and where pleasure can be found in our urban landscape. Like to appreciate a painting, one needs to have basic understanding and knowledge of the painter's work and of the painting context, one can learn how to read and enjoy wandering in cities.
The book just looks at the designs that are available to everyone and how to interpret them: letterforms, numbers, arrows, city walls, clocks, pedestrians streets, and write about amusing tales about how one can have fun with them.
For example, taking pictures of numbers in the street from 1 to 100, is one I'm actually going to try to do.
As we get too familiar with our cities, we just stop looking at the little enchanting details that are surrounding us. This book gives you many reasons to look at your city again and be amazed. I also think this book could have inspired the photographs behind the Flickr revolution.
A few words about George Nelson, from design within reach:
"George Nelson was an outstanding designer. We all know that. But my hunch is that, in a hundred years, he'll be even better remembered for his thinking and writing about design." ; Stanley Abercrombie, architect and writer.

In each chapter Nelson discusses a way to understand and interpret the visual information presented through the photographic illustrations-the book is appropriately subtitled "A Guide to Reading our Man Made Environment." The text, as well as the photographs, are insightful, inspiring, provocative and entertaining and will be appreciated by students and design buffs alike. We consider it to be perhaps the best $30 investment one could make towards a design education.